UPGRADE YOUR STYLE
Ma & Pembum bags are handcrafted one at a time by local Vermont artisans using quality Italian leather. If you are looking for something truly unique for yourself or a one-of-a-kind gift for someone you love, consider designing a custom bag with Ma & Pembum. You pick out the colors, style and size, and we'll make sure it's perfect!
Didn't find a favorite?
Design Your own!
Ma & Pembum is a Vermont boutique specializing in custom leather handbags. You design, we assemble. BOOM. 
Design Your Own Bag
NEED A LITTLE HELP DESIGNING YOUR BAG? SCHEDULE A FREE CONSULTATION WITH OUR DESIGNERS
We're here to help make sure your custom bag turns out exactly the way you want. Schedule a free virtual or in-store design consultation.
NEED IT now? SHOP IN-STOCK BAGS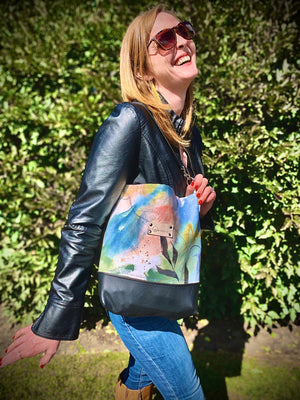 HAND PAINTED CANVASES MADE INTO DESIGNER BAGS
MPB & SEA
ART + LEATHER + LOVE = ADVENTURE!
ARTIST SARA ELLIOTT
SHOP THE COLLECTION